Front doors are one of the most important construction components of the entire facade. On the one hand, they have to insulate heat and sound, offer security from burglars and create an aesthetically pleasing house exterior. On the other hand, they must be easy to operate and the maintenance requirements should be low. Modern aluminium front doors meet these requirements easily; they protect from wind and weather, are insurmountable obstacles for burglars and even create an individual appearance for the house.
Aluminium infill
The standard panel infill depth is 32 mm. As an optional extra infill panels of a depth of 45 mm in combination with triple glazing offering best thermal qualities (Ug = 0.7 W/m2K) are also available.
The panels are available as a standard in the RAL colour white (code 9016) with a surface gloss level of ca. 85 %. All the standard RAL colours (but not including the signal and metallic colours) are available with a surface gloss level of ca. 70 %. Besides the RAL colour range there are numerous other elegant and easy-to-maintain metallic colour tones available as an optional extra.
Glazing
The standard glazing we offer for the infill has a Ug-value of 1.1 W/m2K. This is valid for all glazing using clear glass and the ornament and motive panes in stock.
Stainless steel and glass frames
The stainless steel and glass frames are always mounted on the inside and outside. On the inside the glass frame is only in the area of the glass pane and has no additional application character as it would on the outside.
Stainless steel application
Stainless steel applications are only applied on the outside.
---
Finishes for front doors
Anthracite-grey metallic
DB 703 metallic
Grey-brown metallic
Speckled grey metallic
Speckled green metallic
Light grey mat
Metallic mat 9006
Metallic mat 9007
Metallic mat 9016
Pine green metallic
Rosso metallic
Speckled black metallic
Sepia brown metallic
Terra brown metallic
---
* All the decor and wood colours illustrated here appear only as an indication of the original colours. This is because the screen resolution or the quality of the graphic card. #We always recommend you to use the colour selection of the original as reference sample. We undertake no guarantee or liability where there is colour variation between the colours shown on your computer screen and the actual colour.
---
Product catalogues Aluminium Front Doors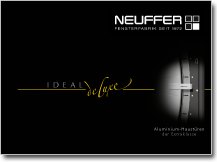 NEUFFER de luxe
Exclusive series according to the highest technical standards.
View catalogue
---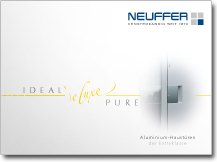 ---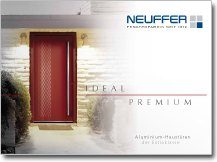 NEUFFER Premium
Wonderful. Courageous. Without compromises.
View catalogue
---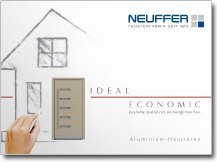 NEUFFER Economic
Excellent quality at affordable prices.
View catalogue
---
Light Metal Doors – modern Materials and newest Technology
Contemporary systems are always made of aluminium, wood, uPVC or a combination of the three. Wood is usually the most expensive material, whereas uPVC is the most affordable one. Aluminium front doors may not be the lowest priced components, but they have excellent properties in terms of quality. Aluminium front doors offer:
High protection from burglary
Good thermal insulation properties via fillings and uPVC components
Low maintenance requirements
They meet all requirements for modern front components and offer high durability. With the appropriate care you can enjoy the new appearance and usability of your robust and weather-proof aluminium system for many years.
An aluminium door is usually 100% recyclable and has therefore increased longevity of the construction component.
The most secure Material for your House
Security is one the main advantages of light metal front doors, aside from longevity. It is very hard for burglars to cut through the light metal without heavy tools. Whereas wooden elements can be broken out of the frame and uPVC windows can be deformed with respective tools, light metal elements are hard-to-break components.
Burglars and thieves therefore choose other areas to allow themselves access, such as glass inserts or hinges. When these elements are additionally protected with bars or hinge side measures, the door can be considered burglar proof.
Heat Insulation and Energy Efficiency can assure Cost Savings
Aluminium is a light metal. Any given pure light metal front door has a tendency to conduct heat, instead of insulating it. Multi-chamber systems normally have heat loss problems as well.
But modern aluminium front doors are always filled with thermal insulating materials, leading to increased energy efficiency. The actual insulation properties are based on the filling. Many models additionally have design elements, such as uPVC thresholds or leaf covering fillings, improving the heat insulating properties of the door. These factors can easily help to achieve the same u-value as uPVC front doors.
Please do not only rely on the quality of the front door when it comes to thermal insulation. The installation of the component should also be performed professionally, in order to ensure perfectly installed sealing in the space between the frame and the wall opening.
Aesthetics and Maintenance Procedures of your Door
After the inner insulation values are considered, you can start to design the appearance of the door. Front doors define the first impression of the entire house and must be aesthetically pleasing – besides having the best security and thermal insulation properties.
To suit all possible tastes, aluminium elements are available in almost every colour shade from the RAL colour range. Clean aluminium aesthetics guarantee modern style and additional features such as: handles or minimalistic and elegant glazing with bars or premium steel frames round up the perfect construction element.
These types of doors project the modernity of a private home and appear professional and reliable in office buildings.
Despite the high degree of individuality through the RAL colour range, maintenance and cleaning measures are especially simple. Anodized surfaces reliably prevent corrosion of the light metal, leading to low maintenance measures, such as occasional wiping off of dirt particles from undamaged aluminium.
Even cleaning is very easy; cleaning with a damp towel and warm water or window cleaner is normally enough. Please pay attention and do not use steel wool, as the material can damage the aluminium surface.
A small selection of High-Quality Front Doors
Should you be looking for affordable, robust and aesthetically pleasing aluminium front doors, you can choose from the four following profiles of the IDEAL series:
Economic – affordable models for high quality standards
Premium – premium doors with additional elements
de luxe – upper class in terms of technology and material
de luxe PURE – premium class systems with tasteful and minimal aesthetics
These construction elements meet highest security standards, are environmentally friendly and feature energy saving u-values between 0,73 and 0,77 W/(m2K). Systems with appropriate multi-glazing can even improve upon the current burglary protection that is already offered with wooden systems.