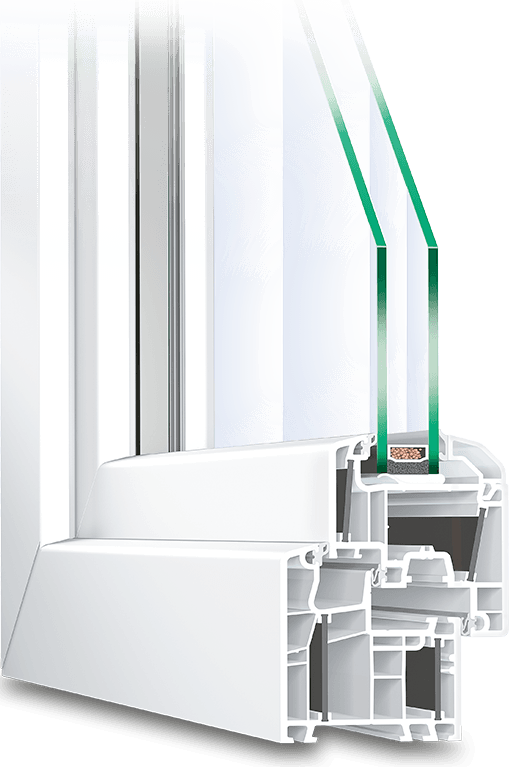 Carbon fibre reinforced Ultradur strips are at the heart of the Energeto 5000's performance. The innovative reinforcements replace the traditional steel inserts - minimising the effect of thermal bridging. Fully bonded glazing further adds to the thermal performance, and 3-point seals offer excellent weather resistance. Security is assured with quality, low-maintenance, German fittings to provide burglary protection and peace of mind.
Energeto 5000 Features and Advantages at a Glance
German made Winkhaus fittings ensure excellent functionality and security
European style Tilt & Turn opening
3-point sealing provides weather resistance and additional insulation
Double and Triple glazing available in thicknesses up to 38 mm
Security options include burglary resistance classes up to and including RC2
Carbon fibre reinforced Ultradur inserts reduce thermal bridging
Fully bonded glazing increases insulation allowing U

w

–values up to 0.87 W/m2K (reference size: 1230 x 1480mm)
70 mm installation depth
98.2% recyclable frames; cadmium, barium and lead free
Innovative Insulation and a Multi-Chamber Core
Energeto 5000 components are not only tastefully modern and aesthetically pleasing but the state-of-the-art design also provides excellent thermal efficiency with our patented 6-chamber system.
Combined with double glazing, it will easily beat most standard domestic windows and with triple glazing, approaches Passive House values.
High-quality profiles with carbon fibre reinforcement instead of steel eliminate thermal bridges, preventing heat from escaping the house. The three-point centre gasket system provides additional insulation and weather-proofing.
Energeto 5000: Innovation & Sustainability
Energy efficient windows and doors not only help to save on heating costs, but also insulate you from unstable energy prices while also reducing your environmental impact.
The Energeto 5000 provides outstanding heat and sound protection properties with the component materials playing a significant role in efficiency and sustainability.
During the development and the manufacturing process, we make sure that all the profiles are free of lead, cadmium and barium. This step not only protects your health, it also guarantees that the uPVC material is up to 98.2% recyclable.