Many people think that quality is reflected in the price tag, but modern technology has demonstrated that high quality products do not need to be expensive. Installing uPVC front doors can be an affordable alternative to wooden or aluminium systems. Premium uPVC front doors offer excellent thermal insulation in combination with proper sound protection and very low maintenance properties – even your desired colour may be selected individually.
The perfect high quality Alternative for any Door in your House
Wood is established as a material with excellent thermal insulating values, whereas light metal is the undisputed leader in terms of burglary protection with construction components. Both materials have certain advantages. Many people tend to avoid uPVC materials for windows and front door systems, believing that wood and aluminium are always a better choice. Actually, uPVC offers many different advantages at affordable prices, however. UPVC front doors have the following advantages:
Excellent thermal insulation
Proper sound protection
Low maintenance
Convincing cost-benefit ratio
The disadvantages of these modern front doors can be tackled with modern improvement features. In comparison to wooden or aluminium components, uPVC systems offer slightly lower burglary protection. But this factor can be improved with the appropriate safety glazing, security locks and hinge-side measures. If money is not an issue, you can also decide to install composite components – a combination of aluminium and uPVC elements which offers protective aluminium profiles on the exterior. This can noticeably improve burglar protection properties.
---
Finishes for uPVC front doors
Wood decors
Mountain pine
Douglas Pine
Golden Oak
Mahagony
Moor oak
Walnut
Walnut Terra
Colour decors
Anthracite grey
Basalt grey sand
Dark green
Gray sand
---
* All the decor and colours illustrated here appear only as an indication of the original colours. This is because the screen resolution or the quality of the graphic card. We always recommend you to use the colour selection of the original as reference sample. We undertake no guarantee or liability where there is colour variation between the colours shown on your computer screen and the actual colour.
---
Product catalogues uPVC Front Doors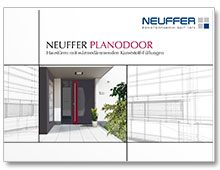 NEUFFER Planodoor
Front doors with heat-insulating uPVC fillings
View catalogue
---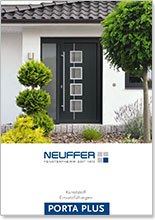 ---
In the Fast Lane in Terms of Thermal Insulation
Wood is the only material offering excellent thermal insulation attributes without the additional help of certain design aspects. Aluminium is a heat conducting light metal, leading to a demand for insulating filling materials.
Although uPVC front doors have slightly worse insulation properties than wooden ones, the multi-chamber structures of the frames achieve significantly higher values in comparison to aluminium. As uPVC is naturally a weak heat conductor, the insulating structure guarantees impressive thermal insulation properties.
When constructing a new building, you also have the possibility to install higher priced aluminium or wooden front doors, while installing more affordable systems inside.
---
Cleaning and Maintenance Procedures of modern uPVC Front Doors
uPVC front doors generally have very low demand for maintenance during their lifetime. It is only necessary to treat the hinges and seals with mild washing-up liquids and oil every once in a while. Treat the hinges of the door with acid-free lubricate oil and rub the seals with sealing protection liquids. The necessary care products are normally available at any door retailer. Please take special care and make sure that the lubricate oil does not have contact with the seals. This can damage the sealing material, leading to unwanted thermal bridges.
uPVC windows and front doors belong to the most environmentally friendly construction components in new and old buildings alike. This fact is not surprising, as they offer excellent insulation properties and after their lifetime, they are almost entirely recyclable.
As uPVC doors can charge electro statically, they have a tendency to attract dust particles. For the cleaning procedure of these elements it is normally enough to use warm water, non-aggressive washing-up liquids and a damp piece of cloth:
Wipe the frame with washing-up liquids and water.
Let the frame sit, coated in the soapy water
Wipe again with a less damp cloth after the procedure
Please always consider during the cleaning procedure that swiping with a dry cloth can lead to scratches on the frame's surface. If possible, let the door dry itself after cleaning. This easy step could lead to problems with wooden components, but it has no negative effect on modern uPVC front doors.
---
Colours and Decors – your House, your Front Door, your Decision
From the aesthetical point of view, uPVC front doors and windows belong to the most customisable construction components of any house. The material can be easily coloured in many different hues from the RAL colour range to match any house façade, colours ranging from modern white and brown to flashy blue and red shades.
Meanwhile, you can choose between different glazing types. It is especially important, for front doors, to consider insulating with multiple glazing elements. Ornamental glass panes in various styles can help to individualise any aspect of your front door, while ensuring sufficient natural lighting in the entrance area and providing effective sight protection.
Minimalistic shaped handles and geometric glass elements with or without bars – uPVC doors and their respective features impress with their very modern appearance. Anyone preferring affordable construction elements with outstanding properties – without foregoing the classical aesthetics of high quality wooden doors – can colour respective components with dark mahogany or bright pine wood decors.
These individualisations give front doors traditional aesthetics, without the constant need for maintenance. uPVC front doors are therefore a modern, environmentally friendly and low-maintenance alternative to common aluminium or wooden doors. They constitute the perfect combination of low maintenance requirements and contemporary aesthetics at an affordable price.