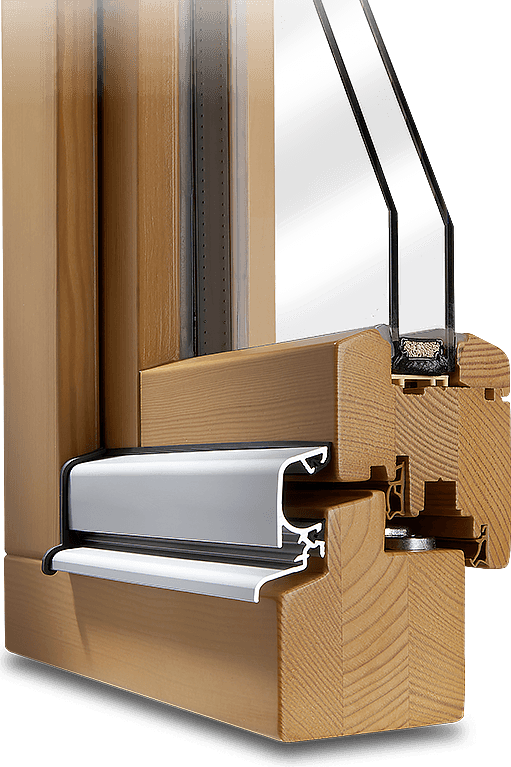 For those seeking the natural beauty and appeal of wood for their project, our classic line offers modern German craftsmanship in a timeless and sophisticated look. Our Classic timber windows can be configured to match historic and traditional homes and at the same time offer the excellent insulation values of today, nearing even passive house standards. Wooden glazing bars are also available in custom configurations and the frames can be cut to both standard rectangular shapes as well as any number of forms including arches, trapezoids, circles and more.
Details of the Profiles
Layer-bonded wood profiles available in frame depths of 68 or 78 mm
Double and triple glazing available in up to 42 mm thickness.
Quality German Winkhaus fittings (load capacity up to 285 lbs/130kg!) with tilt and turn function, and optional concealed hinge design.
Aluminium water drainage channel with an overlapping core cover available in a range of colours.
Triple weather seals provide a barrier against wind and rain. Multipoint locking available in a range of security levels to prevent burglary.
Glued laminated wood profiles increase strength and dimensional stability
Frames with Numerous Practical Advantages
Wood itself has superb natural insulation attributes which the Classic series frames combine with today's high tech glazing. The right combination of triple glazing and warm edge spacers means our Classic timber line can achieve Uw-values down to 0.84W/m²K, nearing passive house standards. Excellent weather resistance is guaranteed through our aluminium water drainage channels and factory sealing.
Robust German hardware easily stands up to repeated use and allow for heavy sashes, providing excellent burglary protection and a high degree of longevity. Fail-safe locking handles ensure smooth operation, and a wide range of handle styles are available to suit any project.
Windows with a classic look
The timeless aesthetics of IDEAL Classic profiles can be perfectly matched to any house facade. In new construction, they offer aesthetically pleasing accents while easily blending into the facades and architectural style of older homes.
Modern double and triple glazing does not mean that classic wood glazing bars aren't possible. Indeed, you can easily select a custom pattern of wood muntins to match existing windows or to give new homes a traditional look.
If the Classic series sounds almost perfect, but you're looking for a more modern appearance, try our similar Softline or Rustic models for more historic and rustic look. They both provide nearly the same features including insulation values and security.
All woods used in our window profiles are, without exception, Class A quality. You can select from many different types of wood and a huge range of colours and finishes. Order your Classic profile system in Meranti, Spruce, Pine, or various other high-quality woods today.