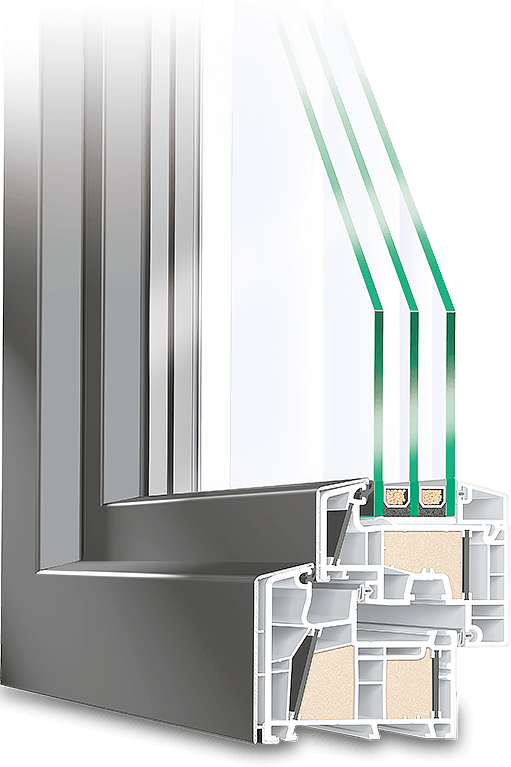 The TwinSet Energeto 8000ED combines excellent insulation, noise reduction and security properties into a single, premium window. Its tough, aluminium cladding coupled with carbon-fibre internal reinforcements make it both incredibly secure and weather-resistant. With 6 chambers, a 90 mm window depth and high-pressure precision insulating foam, the Energeto 8000ED easily surpasses Passive House standards ensuring maximum energy efficiency. For budget-conscious projects requiring the best energy performance and aesthetics, the TwinSet Energeto 8000ED cannot be beat.
TwinSet Energeto 8000ED Overview
Innovative high-pressure polyurethane foam insulation
Ultradur® inserts to eliminate thermal bridging.
6-chamber composite profile with an installation depth of 90mm
Excellent protection from wind and weather with extruder-formed 3-point sealing
Triple glazing up to 48mm thick
Uw-values to 0.73 W/m2K and sound protection of Rw ≤ 41dB possible based on configuration
Privacy and Ornamental glass options available.
Winkhaus fittings with multipoint locking and a range of security levels
All profiles are free of lead, cadmium and barium.
Can be manufactured in shapes, angles and arches to suit any façade.
Colours, finishes and decors available to suit any project
Optional Features:
Additional chambers filled with PHDS high-pressure foam insulation
Resistance Class II (RC2) security fittings
activPilot Select with discrete hidden hinges, or activPilot Comfort with parallel opening mechanism
Magnetic lock sensors
TwinSet Energeto 8000ED – A Profile that Does it All
The TwinSet Energeto 8000ED takes the strength and aesthetics of aluminium clad uPVC models and combines it with the superior energy efficiency of the Energeto series. The result is a sharp looking modern window with excellent security and weather resistance that can simultaneously achieve even passive house insulation values while still being affordable. The special sealing system and polyurethane foam filled chambers minimise heat-loss while preventing water from entering the home.
The TwinSet Energeto 8000ED begins saving you money as soon as it is installed ensuring steady, long term energy savings and comfort. Domestic windows will never stop costing you.
Safety first
A common shortcoming of pure uPVC frames is security. However, with its carbon fibre reinforced inserts and metal cladding, the TwinSet Energeto 8000ED provides a level of durability and protection not afforded by other models. Multipoint locking and the option of further security levels including laminated safety glass ensure there is a solution for any application.
Aesthetically pleasing Facades
A range of RAL colours for the aluminium shell and decorative foils for the interior can be combined for a unique look. Ornamental glass and fixture options offer further opportunities for personalisation and accenting your home.