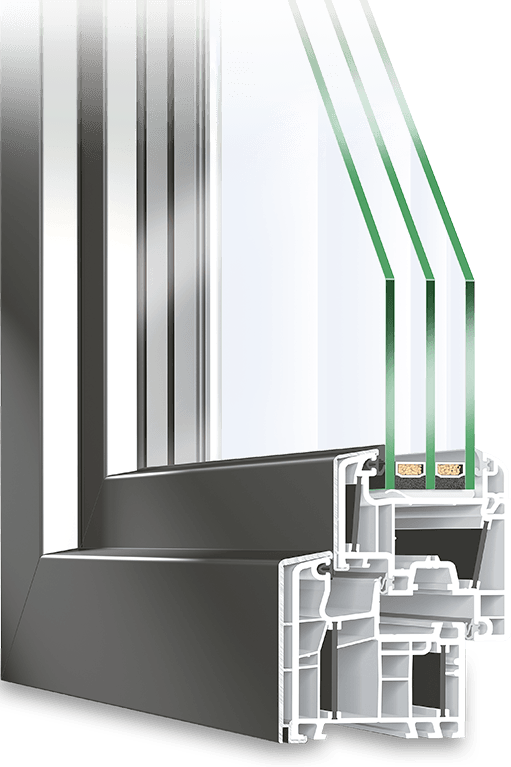 The Twinset Energeto 5000 takes the thermal performance of aluminium clad uPVC a step further. With Ultradur® High Speed reinforcement replacing the traditional steel reinforcement and unique insulation foam technology, the Twinset raises the bar in terms of energy efficiency, insulation performance and value for money. It can easily save you money every month on energy bills and combined with custom colour, glazing and security options, is the perfect all-round window choice.
Details, Structure and Technology
5 chamber design with three sealing levels and 75 mm window depth
Ultradur® inserts provide strength and insulation
Precision high-pressure foam insulation within the uPVC chambers
Double and triple glazing from 24mm up to 38mm with sound protection of Rw ≤ 45dB
White interior uPVC frame and aluminium exterior available in all RAL colours
Extremely weather-resistant aluminium shell with innovative and durable uPVC mixtures.
Winkhaus fittings with multipoint locking and a range of security levels
Configurable up to a Resistance Class 2 (RC2) security level
Optional electronic lock monitoring with magnetic sensors
All profiles are free of cadmium, barium and lead
activPilot Select with discrete hidden hinges, or activPilot Comfort with parallel opening mechanism
Top-Notch Energy Efficiency in a Sleek Modern Look
The TwinSet Energeto 5000 system utilizes a durable uPVC profile clad with an aluminium shell, protecting and insulating it from environment and weather. Ultradur® inserts within the uPVC profile work to eliminate the effects of thermal bridging suffered by steel-reinforced systems. An added benefit of these inserts is the creation of 5 interior chambers providing excellent thermal performance.
The central sealing is an additional gasket between the casement and frame, creating a total of 3 seals across the profile. Discrete drainage galleries guide water away so that even in the most extreme weather your home is unaffected.
Twinset Energeto 5000 models offer innovative technology paired with German quality craftsmanship and modern aesthetics
In the absence of an MVHR (Mechanical Heat Recovery System), trickle vents can be integrated into the frame to allow proper air circulation while retaining acoustic and thermal insulation performance. This also lowers the danger of corrosion and mould, ensuring your home always remains dry and warm. The Twinset Energeto 5000 system is an excellent balance of price, performance and aesthetics.
Multipoint Locking & Security Features
Security plays a significant role when selecting suitable windows and doors for your home. The hardware and fittings used must meet strict standards in order to provide a defense against burglary. Quality Winkhaus activPilot fittings are used to guarantee basic security, with a range of additional options and upgrades, including Resistance Class II (RC2) protection. In locations where windows are particularly vulnerable to intrusion attempts, glazing too can be reinforced with laminated and impact resistant elements.
Freedom of Design
In order to meet your personal unique tastes, the outer aluminium shell of the Twinset 5000S models can be customised using a variety of different colours. You can select from an extensive range of RAL colours and finishes.
Furthermore, visual features such as glazing bars can be easily integrated into your Twinset 5000S window, leaving your personal creativity practically free of restrictions.