Wooden front doors impress with functionality and a uniquely aesthetically pleasing appearance. Different to uPVC and aluminium elements, they offer natural thermal insulation without the need for multi-chamber structures. Modern wooden front doors are available at affordable prices and do not need to be equipped with additional features to ensure excellent properties. Several types of timbers and lacquers allow for a large variety in terms of aesthetics and design.
---
Many different Types of Wood
Neuffer offers several types of wood for the construction of premium construction components for entrances. The main focus is always on premium quality of the respective timber, in order to meet the highest requirements on the product. All wood types used in the manufacturing process of these doors are explicitly sustainable products. The number one focus during the entire process is to ensure that environmentally friendly products are used. Our partners in Germany guarantee ethical manufacturing by focusing on our principles. You can choose from the following timbers:
Modern wooden front doors have unique properties that clearly differentiate them from aluminium and uPVC models. Timber doors have excellent thermal insulation attributes by nature, which can be seen in their low U-values as well as the fact that there is no further need for multi-chamber profiles in the frame. In addition, they offer proper values in terms of burglary protection.
---
Colours for wooden Front Doors
Pine 550
Pine light 325
Larch dark brown 222
Larch light 325
Meranti Oak light 325
Meranti chestnut 233
Oak 222
Oak 600
---
Product catalogues wooden Front Doors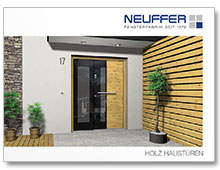 NEUFFER Wooden Front Doors
Wood in its most beautiful form
View catalogue
---
Robust Structures for secure Doors
Our timber models are manufactured using a sandwich type construction. This construction method ensures robust systems that can be additionally reinforced with metal inserts.
The steel insert covered by the timber does not negatively influence the thermal protection properties of the overall element. Forced entry can therefore be successfully prevented.
Additional security is further improved with high-quality hinges and several other features. Pre-installed swing-bar door guards offer similar, but more effective security functions than the more typical door chains.
Additional lift-off protection can be achieved with hinge side measures and premium locks can increase respective security standards on the next level. Doors can be upgraded with up to seven locking mechanisms, guaranteeing the best burglary protection properties for modern wooden front doors.
Modern wooden Front Doors with Safety Glazing
Timber door models for the entrance are often equipped with glass inserts. In order to improve burglary protection, it is recommendable to decide on a combination of laminated safety glass and insulation glazing.
Laminated safety glass is the perfect choice for use with exterior glass inserts in modern wooden front door models.
Laminated safety glazing provides necessary protection, while insulating elements ensure proper heat insulation attributes in order to not compromise the energy efficiency of modern wooden front doors.
Multi-glazing solutions have significant advantages in comparison to other systems. Laminated safety glazing consists of several layers of glass, connected to one another with special foils.
Even if the panes are destroyed by external forces, they remain in place. The foil itself is very tear-resistant and hard to break through. Therefore, laminated safety glass is probably the best component for the installation in modern wooden front doors.
Laminated safety glass also already offers a certain amount of thermal insulation even without dedicated additional insulation elements. The best insulating values are provided by such glazing elements via asymmetric thicknesses of the different panes.
Thick and thin glasses oscillate at different frequencies, diminishing the amount of sound transferred from one pane to the next. The common U-value – the so-called heat transmittance coefficient – for such construction elements is 1,1 W/(m2K).
Another installation option is, additional architectural elements. Transom or side lights can completely alter the appearance of any door or house facade.
These elements also allow natural sunlight to enter the hallway. They are available in many different models and with a large variety of glazing types. Tilt-and-turn systems or fixed glazing are just two of the available window types.
Modern wooden front doors with transom or side lights including a tilt-and-turn mechanism allow for convenient airing of the hallway. This can effectively prevent the formation of mould.
---
Aesthetics and wooden Design
All of our modern wooden front doors have casement covering structures. They feature harmonic and natural appearances, while at the same time making forced entry very difficult. There are no limitations in terms of design.
Glass inserts can be designed in all conceivable shapes and variations. Individually designed premium steel frames round up the overall impression of the element. Various lacquers and colours in the hues of the entire RAL scale ensure a large spectrum for colourful individuality.
Shiny red, decent brown or modern anthracite – Different colours do not only define the appearance of doors, they also protect the construction element from wind and weather. This factor prolongs the lifetime of your wooden front door and reduces the need of maintenance to a very low level.
Handles are another possible feature that can help you design your wooden front door in a more modern style. Neuffer offers a large range of models, matching your requirements perfectly.
All premium steel and aluminium handles are available with smooth or brushed surfaces, offering the appropriate style for every taste.
Similar to modern wooden windows, timber front doors are manufactured without a chamber system. A thickness of 70 or 80 mm already provides sufficient thermal insulation and security properties. Thermally separated thresholds with surrounding seals guarantee excellent tightness for the entire construction.
Combining modern and traditional Attributes with modern wooden Front Doors
Modern wooden front doors combine traditional and modern attributes. Their classic aesthetics and the warm characteristics of the material create a highlight for every house facade, while steel reinforcements, high-quality hinges and locks ensure excellent burglary protection.
This type of front door is not only suitable for renovations in old buildings; it also harmonises well with new houses, as its timeless design is always an aesthetical highlight for any conceivable house facade.
At the same time, natural thermal insulation properties in combination with thermally separated thresholds guarantee very good energy efficiency for your house.
Design your individual model and choose between many different colours and a large range of available products. Larger glass inserts even allow the installation of glazing bars with modern wooden front doors.