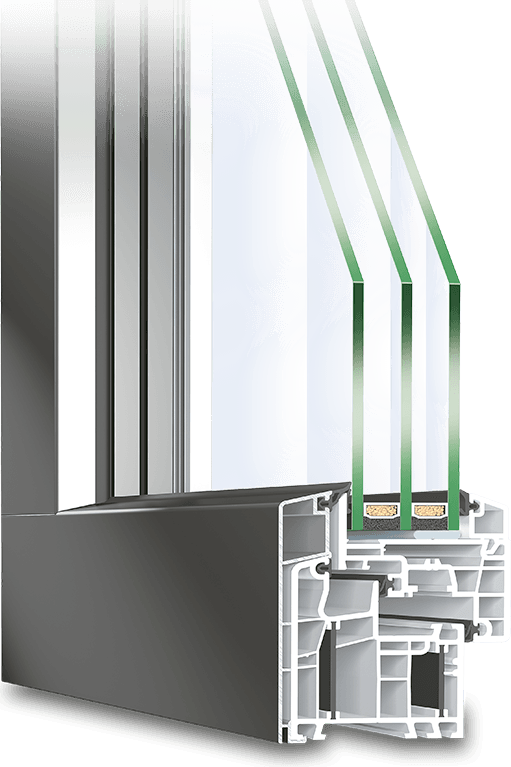 Windows can be so much more than just glass and a frame. The TwinSet Energeto View delivers beautiful minimalist design along with advanced European energy-efficiency. Give your facade a facelift with this modern German profile while saving energy and money every month. The Energeto View can reach Passive House values without sacrificing aesthetics, durability or security. Its robust aluminium cladding and precision made uPVC frame feature strong thermal performance without the weight or cost of solid wood or metal. Our wide range of custom options enables you to configure the exact insulation, security and design features you require.
TwinSet Energeto View – Technology and Details
Slim profile in a modern, minimalist style
Triple glazing up to 50 mm thick with 6 chamber profile and 75 window depth
U-values of up to 0.79 W/(m2K) possible based on configuration
109 mm frame profile manufactured in heights up to 2260mm
Ultradur® inserts to eliminate thermal bridging typical with steel
3-point sealing providing an effective weather barrier
Interior and exterior available in a variety of RAL colours and decorative finishes to match both the façade and interior simultaneously
Premium Winkhaus security hardware
Available in shapes, angles and arches to suit any project
All profiles are free of cadmium, barium and lead
Up to 98% recyclable frame
Hidden Casement Design with Visible Results
By concealing the casement within the frame profile upon closing, the Twinset Energeto View maximises the usable glass area and creates a modern flush façade. This gives the profile a considerable advantage over standard window frames, especially when optimising the glass size as part of design requirements. The uniform frame surface also allows more options for window installation. By mounting the frame section within the aperture, a clean and modern look is created for the buildings' exterior, but without losing the functionality of the Tilt & Turn opening.
Greater visibility and a modern façade with the Twinset Energeto View
Merging materials and benefits
The combination of uPVC with exterior aluminium cladding creates a durable profile, with significantly better security than regular uPVC systems. The addition of carbon fibre reinforced Ultradur® inserts within the uPVC eliminates thermal bridging caused by steel. The high thermal insulation of the profile is achieved by the multi-chamber structure. Partitions across the section isolate the interior surfaces from the effects of external temperature changes, while the triple seals protect against wind and rain.
Durability & Security
The security performance of your homes doors and windows are important for both peace-of-mind and insurance requirements. Multipoint locking is a standard feature of all Twinset Energeto View windows to effectively protect against intruders.
Numerous options are available to further improve security:
Toughened, laminated and impact-resistant glazing
Additional hinges
Lockable handles
External roller shutters
This ensures that the Twinset Energeto View is a secure, attractive and energy-efficient solution for your project.